South African Gambling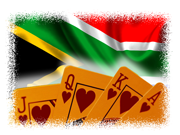 South Africa has been a hotspot for live gambling, as well as for poker action for quite a while now, despite the fact that during the 60s and 70s, most gambling was in fact outright banned or heavily restricted, with the exception of wagers placed on horse races.
The first noteworthy gambling establishments sprung up during the late 70s, in the various Bantustans, where the majority of South Africa's citizens could not access the games. The phenomenon gathered steam though, and by the mid 90s, scores of operations had sprung up everywhere in the country, skirting the law or simply breaking it. The first legalization of gambling happened in 1994, with the advent of democracy in the country.
In 1996, the industry was finally given a proper regulatory framework and the national lottery was set up. According to the 1996 National Gambling Act, a total of 40 licenses would be awarded to land-based operators in the various provinces. Although that law has since been repealed and then amended, land-based casinos are common throughout the urban areas of the country these days, and the gambling industry has indeed become a profitable and apparently thriving one too.
Despite the fact that it's obvious that South Africans love to gamble, thus far, the authorities have been quite averse to taking any sort of meaningful steps towards legalization. That however - as it's the case pretty much everywhere where online gambling is scoffed at by lawmakers - has never really prevented the public from accessing the games offered by various international online gaming/gambling operators.
The 2004 version of the National Gambling Act took a no-nonsense stance on the issue, effectively outlawing not only the offering of interactive gambling games by operators from any jurisdiction, it also prohibited taking part in internet-based interactive games involving real money. Online bookmaking (regardless of the sport involved) and horse racing were exempted from under the provisions of the law though.
In 2008, the National Gambling Amendment Act represented the first move on the part of lawmakers towards legalization and regulation in regards to online casino gambling and online poker. The Act - immediately shut down by anti-online gaming interests) is still pending today and therefore online poker and online gambling are still essentially illegal in the country.
That however does not prevent various operators from coming up with specially-tailored deals for South African online gamblers and peddling their offers to them through the internet. There are indeed scores of online gaming operations out there which not only accept South African players, but seem to target them on purpose.